Welsh government announces imminent ban on third party puppy and kitten sales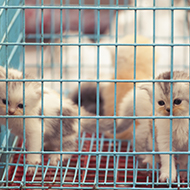 Lucy's Law will come into force by May 2021

A ban on third party puppy and kitten sales will be introduced in Wales within the next few months, following a public consultation by the welsh government which received overwhelming support.
Current regulations in Wales mean that a local authority licence is only required for those breeding three litters or more per year.
The introduction of Lucy's Law – named for a puppy that was saved from a welsh puppy farm – will mean that anyone wanting to get a new puppy or kitten will have to buy directly from a breeder.
The public consultation ran from June to August 2020 and aimed to analyse the positive and negative effects that a proposed ban would have on commercial third party sellers of puppies and kittens.
Of the 226 responses received, 98 per cent of respondents said they would like to see a ban on third party sales of puppies and kittens.
Following this tremendous response, Lesley Griffiths, Minister for Environment, Energy and Rural Affairs confirmed that a ban on third party sales will be introduced by the end of this Senedd (May 2021).
The Kennel Club welcomed the announcement, made on Monday 5 October. Head of public affairs, Holly Conway commented: "When this policy is implemented it should stop the suffering of many dogs and send a very strong message to puppy buyers that it is never ok to see a puppy in any environment other than the one it was born and raised in, and with its mum.
"It's absolutely vital, particularly in the current climate, that people wanting to get a dog take their time to really do their research, find a responsible breeder and bring home a happy, healthy new addition to the family."