Winners of 2020 European PRRS Research Award announced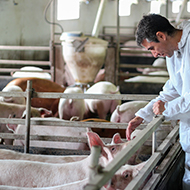 Funding prize will aid understanding of costly disease

Animal health firm Boehringer Ingelheim has revealed the three research proposals which have been awarded this year's European PRRS Research Award.
The European PRRS Research Award aims to encourage further development of practical methods for controlling Porcine Reproductive and Respiratory Syndrome (PRRS), as well as providing an opportunity for communication and knowledge sharing between researchers and academics in the field.
The awards are judged by an independent panel of highly regarded professionals from across the swine industry, including researchers and practitioners. The board is chaired by Enric Mateu, a professor of the Department of Animal Health and Anatomy at the Autonomous University of Barcelona's (UAB) Faculty of Veterinary Medicine and Science.
Winning proposals were selected for their potential for impact on the swine industry, their originality, and their innovation. Each winner receives €25,000 in funding to support their research.
The winners of this year's European PRRS Research Award are:
'Biosecurity and management impact on PRRS status and economical profit: statistical process control after evaluation and improvement', by Ramis Vidal from The University of Murcia, Spain

'PRRSV1 genetic recombination in swine herds: an emerging risk or hype', by Erhard van d. Vries from Royal GD in the Netherlands

'Impact of weaning procedures on PRRSV in the nursery', by Pia R. Heiselberg of HyoVet in Denmark.
The winners will receive their prizes at the fifth European PRRSpective, which will take place in 2021, in Bern, Switzerland.