Study reveals growth charts for puppies could help tackle obesity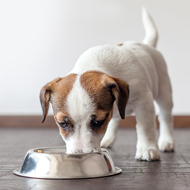 New evidence-based growth standards developed for vets and owners

New research has suggested that the use of growth charts for puppies, similar the those used by humans, could help veterinary surgeons and pet owners to combat the ongoing canine obesity problem.
The research – published in the journal PLOS One – was conducted by researchers from the University of Liverpool, Waltham Petcare Science Institute, Banfield Pet Hospital, and UCL Great Ormond Street Institute of Child Health.
The team created multiple evidence-based growth charts, based on bodyweight, for dogs across five different size categories. They then compared the growth curves presented by this set of standards with the patterns of growth in dogs that were healthy, had abnormal body condition, or had various diseases known to be associated with abnormal growth.
The results showed that 68 per cent of dogs that developed obesity by three years old gained weight faster than the growth standards predicted. However, 49 per cent of dogs that became underweight by three years old gained weight more slowly than what was expected.
Alex German, professor of small animal medicine at the University of Liverpool, said: "We know optimal growth is crucial for the future health and wellbeing of dogs, as many of the health issues that appear during early life are associated with poor weight management.
"The results of this study suggest that these growth charts can identify healthy growth as well as patterns of growth signalling possible health problems.
"We hope that veterinarians and owners will find these evidence-based growth standards easy to use, helping puppies to keep in shape and starting them on the right path for their adult life."
To view the growth charts please visit the Waltham Petcare Science Institute's website.