NOAH rewards top students during online event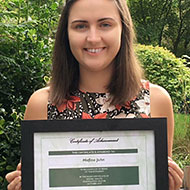 Highest scorers recognised by animal health organisation

In its first ever virtual presentation, the National Office of Animal Health (NOAH) honoured the top scoring students who obtained the NOAH Certificate of Animal Health (NCAH) in 2019.
The NCAH qualification is accredited by Harper Adams University (HAU) and provides animal medicines representatives with the knowledge and legal understanding to effectively support prescribers and sellers of animal medicines in compliance with the NOAH Code of Practice for the Promotion of Animal Medicines.
Fifty-one students took the exam at HAU in 2019. Overall, the highest scoring student was Hafina John (pictured) from Dechra Veterinary Products. She said: "It was a great opportunity to boost confidence and technical understanding but also to reaffirm responsibilities, particularly in relation to the legal framework. I am proud to have achieved the NCAH, the qualification is a testament to the high standards across the animal health industry."
Second place went to Maggie Watt from Ceva Animal Health and third place was Louis Burch, also from Dechra Veterinary Products. The winners were revealed by NOAH chair Jamie Brannan during the virtual event on 1 October.
Donal Murphy, head of international and regulatory affairs at NOAH said: "In what has proved to be a very challenging year, we are happy that we still had a way to honour the achievements of our top students for 2019. We are also pleased that we have agreed a way forward with HAU about virtual learning and qualification, for our next group of students, to start in before too long."
Image (c) NOAH.