85 birds of prey illegally killed in 2019, report reveals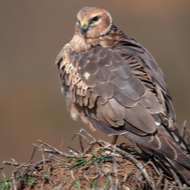 RSPB calls for urgent action to ensure that grouse shooting operates legally and sustainably.
There were 85 confirmed cases of bird prey persecution in the UK in 2019, including shooting, trapping and poisoning, according to the latest RSPB Birdcrime report.

Figures show that between 2012 and 2019, half of confirmed bird crime incidents took place in protected landscapes. The RSPB is now calling for governments to take 'urgent action' to end the killing of raptors and to ensure that grouse shooting operates 'legally and sustainably'.

Mark Thomas, RSPB head of investigations UK, said: "At a time when the world – and the UK in particular – is seeing catastrophic declines in wildlife populations, the destruction of rare wildlife looks like the opposite of progress. Healthy bird of prey populations are key indicators of the health of our environment. Yet there could be more than 12 times as many hen harriers breeding in England if illegal killing stopped."

He continued: "The shooting community has had decades to get its house in order, but it is abundantly clear that they cannot control the criminals within their ranks. Current legislation has failed to protect our birds of prey, and the time has come for urgent, meaningful change."

Among the confirmed incidents of bird of prey persecution include red kites, golden eagles, buzzard and hen harriers. The highest concentration of these crimes occurred in the upland areas of the North of England and Scotland, particularly where land is managed for driven grouse shooting.

Mr Thomas said: "The illegal killing of birds of prey is just one of the symptoms of a wholly unsustainable driven grouse shooting industry. The burning of internationally important peatlands is another hugely important issue.

"This destructive grouse moor management practice not only releases carbon into the atmosphere, it degrades the peat, impoverishes wildlife and increases the flow of water across the bog surface, in some cases causing devastating flooding in local communities downstream. In a climate and ecological emergency, this is simply not acceptable. Today, at the start of the annual burning season, the RSPB is renewing its call for moorland burning on peatland soils to be banned by Government."

Under the Wildlife and Countryside Act 1981, it is illegal to intentionally kill or injure a bird of prey. Doing so could result in an unlimited fine or up to six months imprisonment.

In the past decade, despite the combined efforts of authorities, conservationists and volunteers, there have been more than 1,000 confirmed incidents of bird of prey persecution in the UK.