BVA urges pet owners to protect animals during fireworks season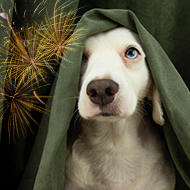 Association concerned about a rise in unregulated displays amid COVID-19 restrictions

The BVA is advising pet owners and livestock keepers to take steps now in order to minimise stress and possible injury to their animals during traditional fireworks dates such as Bonfire Night, Diwali and New Year's Eve.
The BVA is particularly concerned about the negative impacts of fireworks on animals this year because, although COVID-19 restrictions have led to the cancellation of many official events, the association worries that this could in turn lead to an increase in unregulated backyard displays.
A survey conducted by the BVA in 2018 showed that approximately one in 14 veterinary surgeons across the UK reported seeing animals with firework-related injuries over the previous year. Typically, these injuries were sustained as a result of fear responses caused by fireworks, such as horses bolting from their fields or dogs chewing furniture.
The BVA is encouraging vets to help owners understand the common signs of distress that their animals may display during fireworks season, as well as some of the simple ways to protect animals during these celebrations.
Daniella Dos Santos, BVA senior vice president said: "We'd encourage pet owners and livestock keepers to consult with their vet as far in advance as possible to discuss management and treatment options, which may include noise desensitisation techniques, applying pheromone products around the house, and preparing a 'safe place' for animals.
"With professional input, owner commitment and patience, a phobia of fireworks can be effectively treated with appropriate behaviour-modification techniques. In more severe cases, vets may also prescribe medications to help pets struggling with fireworks distress."
For more information visit the BVA website.