Edinburgh Zoo welcomes inquisitive otter pair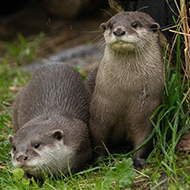 Barry and Luna are settling in well to their new enclosure.
The Royal Zoological Society of Scotland has welcomed the arrival of two Asian small-clawed otters to Edinburgh Zoo.

Keepers at the wildlife conservation charity say the otters, named Barry and Luna, are becoming more confident every day and enjoy exploring their new enclosure.

Senior carnivore keeper Andrew Laing, said: "Barry and Luna are settling well into their new home and are already very bonded.

"They were quite shy when they first arrived last month and still like to spend a lot of their morning in their underground holts but in the afternoon, they come out for a dip in their pool and a nosy at what our visitors are up to.

"Luna is the more confident of the two and you can tell her apart from Barry as she has a pink nose and he has a black nose."

One of the world's smallest otters, the Asian small-clawed otter is listed as Vulnerable on the IUCN Red List. They are extremely dextrous and use their forepaws to feel for crustaceans and molluscs in mud, rock and vegetation.

The species is found in the wild throughout south-east Asia, the Philippines and Indonesia. In recent years, however, deforestation, agriculture and the overexploitation on prey have seen their populations plummet.