Cats Protection announces Alternative Cat Awards finalists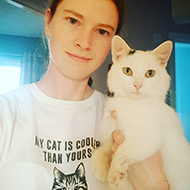 Online awards celebrate feline companionship during lockdown

Cats Protection has revealed the five cats that will progress to the final of the Alternative Cat Awards, with the overall winner to be announced on Wednesday 24 September by comedian Bob Mortimer.
As a result of COVID-19 restrictions, the charity unfortunately had to postpone its annual National Cat Awards, and instead asked the public to send in videos showcasing the various ways in which their cats provided comfort and support during lockdown.
A group of celebrity judges then chose five category winners to go through a public vote for the 'People's Purrfect Choice' award.
The finalists are:
One-year-old Norbert from Tewkesbury, who won the #PurinaPurrfectTeamwork award for demonstrating how 'helpful' our cats have been for those of us that were working from home during lockdown


Charlie Roo from Dumfries, who has underdeveloped front legs and won the #PurrfectlyImperfect category, which celebrates disabled cats living happy, healthy lives

Seven-year-old Sid from Baldock, who won the #MischeviousMoggy category by showing off his astounding acrobatic skills on his owner's staircase

Winner of the #SeniorKitizen category - 21-year-old cat Cookie from Romford, who was clearly enjoying her retirement in a video submitted by her owner

Bean from Morely, who is four years old and won the #BestNewcomer category after her owner filmed her making the most of her new climbing tower.
The owner of the winning cat will be invited to attend the National Cat Awards, hosted by Cats Protection – in London at the Savoy Hotel on 5 August 2021.
Katy Geary, Cats Protection's acting head of media relations, said: "During lockdown, we heard countless stories of how the nation's pet cats were helping their owners during such unprecedented times. Whether it was providing a welcome distraction when we were all getting to grips with homeworking, being a companion to people living alone, or becoming a playmate for children missing their school friends, our pet cats have been an invaluable support to many of us.
"There can only be one winner, but our Alternative Cat Awards are all about celebrating everything we love about cats and the joy and laughter they bring to a home, especially in difficult times."
To watch the finalists' videos, please visit the Cats Protection blog.
Images (c) Cats Protection.