Moredun Foundation awards two honorary fellowships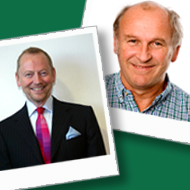 Veterinary professionals recognised for outstanding contributions

Two honorary fellowships were awarded to both David Danson and David Smith at the AGM of the Moredun Foundation, the governing body of Moredun Research Institute.
David Danson has spent most of his career in industry, working as director of global marketing for Mallinckrodt Animal Health Inc in Chicago, as well as managing director, then chairman of Biokema SA in Lausanne. Between 1998 and 2005, he was group chief executive of UA Group.
Mr Danson is currently a non-executive director of Eco Animal Health Group, a council member of the RVC and chairman of RVC Developments. He joined the board of Moredun Scientific in 2000, making significant contributions towards the growth of the company until his departure in 2019.
Dr David Smith has dedicated much of his career to understanding worm infections in sheep. He recently made a major breakthrough in the treatment of worm infections in livestock by successfully developing a vaccine for Haemonchus contortus, the most prevalent worm affecting sheep and goats globally.
Dr Smith is also a director of Wormvax Australia, the commercial company set up to produce and distribute the vaccine in Australia. Work is currently ongoing to expand distribution of the vaccine to other countries.
Speaking at the AGM on Thursday 3 September, Ian Duncan Millar, chairman of the Moredun Foundation said: "It is a huge honour to be able to recognise the contribution of people who really have made a difference. This year's recipients have done just that in very different ways. David Danson by being a board member of Moredun Scientific during a period of considerable growth in business and reputation.
"In a very different way David Smith has dedicated his life to the understanding of sheep gut worms, and his achievement in producing and marketing the first vaccine against one of these parasites is truly worthy of recognition, and a wonderful example of the excellence of our Moredun science and scientists."
Image (c) Moredun Foundation.