Government funding for bovine TB research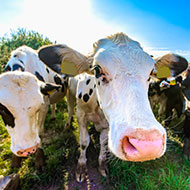 Projects will develop new tools to enable faster diagnosis.
Government funding of £500,000 has been made available to a series of innovative research projects aimed at detecting tuberculosis in cattle herds (bTB) faster.

Defra and the APHA have selected five schemes, led by various research institutes, to receive up to £100,000 each for up to 12 months for proof of concept research. The projects will amply an array of new concepts and technologies which aim to speed up the identification of bTB, including:


machine learning for improved interpretation of the bTB skin test
rapid and increased sensitivity test to determine bTB status
mass spectrometry profiling of non-invasive cattle samples (mainly saliva or nasal fluids), to accurately detect bTB at early infection stage
mid-infrared spectroscopy of milk samples as a rapid and accurate non-invasive tool for monitoring the bTB status in a herd
identifying novel diagnostics antigens to underpin a future test for Detecting Infected amongst Vaccinated Animals (DIVA).
UK deputy chief veterinary officer Richard Irvine said: "Bovine TB leads to the slaughter of over 30,000 cattle every year and considerable trauma for farmers as they suffer the loss of highly prized animals and valued herds.The rapid, early identification of infection is a cornerstone of our eradication programme. We look forward to viewing the results of the project once new diagnostic methods are in place."
Christianne Glossop, CVO for Wales, added: "We are pleased to work alongside colleagues across the UK in introducing this new diagnostics programme, which will help give farmers across Wales and the UK the confidence that instances of TB will be identified early, allowing farmers and relevant authorities to respond accordingly and limiting the spread of the disease.

"This investment, which we hope will enable infection to be diagnosed and acted upon more quickly in the future, underlines the government's commitment to invest in world-leading scientific research in our battle to tackle this insidious disease."