Majority of brachycephalic dog owners would own same breed again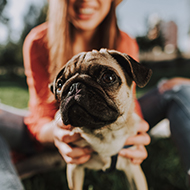 Study highlights loyalty for brachycephalic breeds despite known health risks.

New research by the Royal Veterinary College (RVC) has revealed that a staggering 93 per cent of brachycephalic dog owners would own the same breed again, despite experiencing substantial health problems in their pets.

Findings published in the journal PLOS ONE reveal that behaviour traits are a core reason why owners 'love' their breed and would recommend them to others. Owners of brachycephalic breeds also said they were confident they would opt for 'their' breed again in the future.

The study of more than 2,000 pug, French bulldog and English bulldog owners reveals that first-time dog owners and those that had a very close relationship with their dog were most likely to want to own their breed again. Interestingly, recognising that their current dog had severe breathing problems reduced an owner's desire to acquire their breed again in the future.

Study leader Dr Rowena Packer, a lecturer in companion animal behaviour and welfare science at the RVC, said: "With a multitude of stakeholders trying to tackle the current brachycephalic boom in the UK, our results are of real concern to these efforts. Understanding how breed loyalty develops towards brachycephalic breeds, and whether it can be changed once established, is key to reducing the popularity of short-muzzled breeds."

The study asked owners to describe which aspects of their current breed they would or would not recommend to others. Among the key reasons for recommending the breed were:
perceptions that these dogs were loving and affectionate, loyal, comical, 'clown-like' and playful

a belief that they were suitable for households with children


a perception that flat-faced breeds are 'lazy' and require little exercise, so are suited to sedentary lifestyles with limited space.
Conversely, the aspects of their breed that owners would not recommend included:
high maintenance requirements

impacts on owner lifestyle including excessive hair shedding and loud snoring

health problems being common and high vet bills

behavioural traits including stubbornness, neediness, and aggression.


Concerns over ethical and welfare issues associated with breeding flat-faced dogs, such as irresponsible breeding practices and suffering associated with their body shape, were only cited by a small number of owners.
In light of these findings, the RVC is calling for efforts to reduce the suffering of brachycephalic dogs to shift to people who already own such breeds.

"Although strong focus has been placed upon dissuading new puppy buyers from purchasing brachycephalic breeds, as they are now some of the most popular breeds in the UK, attention should also be turned to current owners," said Dr Packer.
"Priority should be given to developing evidence-based strategies to help these owners consider lower risk, healthier breeds when acquiring future dogs. Our novel findings start this process by highlighting the key behavioural characteristics that this owner group value."