Ethel returned after six days on the run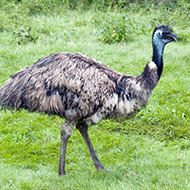 Emu managed to evade capture from Police and RSPCA officers.
An emu from Doncaster that had been on the run for almost a week has returned home.

The six-foot-bird, named Ethel, escaped from her enclosure last Thursday (6 August). Owner Kerry Dobson launched a new appeal for help on Tuesday (11 August), but Ethel has since returned.

Announcing Ethel's safe return on Facebook, Victoria Robinson-Hewitt said: "She's home! Thank you all for sharing ... group effort this".

According to the Doncaster Free Press, Ethel ran away after getting spooked by people taking her photograph. Police and RSPCA officers followed up several sighting in the Doncaster region, but she managed to evade their capture.

Native to Australia, emus are the second-largest birds in the world. They naturally range over large areas, foraging on insects, fruits and seeds.

Ethel is reported to have spent her few days of freedom roaming Sprotbrough, Newlands Park and the Trans Pennine Trail.