Goshawk rescue prompts ownership warning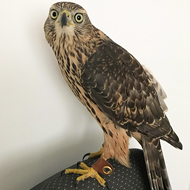 Owned goshawks must be either ringed or microchipped.

An illegally-owned goshawk rescued from a town in Wales has prompted the RSPCA to issue a warning about the ownership of these spectacular birds of prey.

The male goshawk was spotted by a member of the public in Tonypandy and collected by the RSPCA. He was wearing jesses but was not ringed or microchipped – suggesting the bird was owned illegally.

RSPCA chief inspector Elaine Spence said: "The law surrounding goshawks is clear - but this incident has prompted us to issue a reminder to the public.

"Except in specific and time-limited cases of rehabilitation, keepers must register them, and either ring or microchip them - but that hadn't happened to this goshawk. This gives us cause to believe this goshawk was illegally owned - and sadly, we know goshawk nests are frequently a target for wildlife crime."

Owned goshawks should be registered by their keeper under the Wildlife and Countryside Act 1981 and must be either ringed or microchipped. The only exception is for those rehabilitating a sick, injured or disabled bird of prey, where authorised persons can provide treatment under general licence for a period of 15 days.
The RSPCA said that the goshawk has a small wing injury and is receiving treatment at a specialist centre.