Dechra extends dermatology range with Osurnia®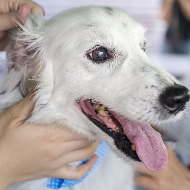 Product will support vets in the treatment of otitis externa.
Veterinary pharmaceuticals firm Dechra has announced the expansion of its range of products to treat otitis externa with the introduction of Osurnia ®.

The announcement follows Dechra's acquisition of the worldwide rights to the marketing and manufacture of the product from Elanco Animal Health Inc.

"We know that otitis externa is a common challenge for both vets and clients with ear infections among the most frequent reasons for dogs to be presented at the vet clinic so we are delighted with the addition of Osurnia, which extends our range of solutions for veterinarians to manage otitis," said Roddy Webster, Dechra Country Manager for the UK and ROI.

"We are now able to offer the best treatment for the pet taking into consideration the veterinarian's clinical preference and the owner's lifestyle. Dechra's experience in otitis will bring a lot of added value to otitis externa management for veterinarians."

Osurnia is formulated for the treatment of otitis externa associated with susceptible strains of the bacteria Staphylococcus pseudintermedius or the yeast Malassezia pachydermatis. A dose is the same for all dogs, administered from a pre-measured single-dose tube.

Other products in Dechra's dermatology range include Canaural® and Recicort® and a range of ear cleaners.