Wild tigers making 'remarkable' comeback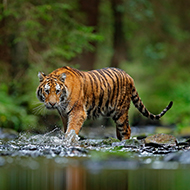 Populations have risen in Bhutan, China, India, Nepal and Russia.
Wild tiger populations across five range countries have increased to almost double what they were a decade ago.

Figures released by wildlife charity WWF suggest that numbers have risen in Bhutan, China, India, Nepal and Russia.

In 2010, there were as few as 3,200 tigers left in the world. Now, India alone has between 2,600 and 3,350 individuals, approximately three-quarters of the world's tiger population.

In Nepal, the country's tiger population is estimated to have risen to 235 - almost double that of the 121 estimated individuals in 2009.

"Ten years ago, tigers were in such a perilous state, that there was a very real risk of them becoming extinct in the wild," commented Becci May, regional manager (Asian Big Cats) at WWF UK. "From that population low in 2010, they are finally making a remarkable comeback in much of South Asia, Russia and China, thanks to co-ordinated and concerted conservation efforts in these countries."

The increase in tiger numbers is in part to the TX2 initiative, one of the most ambitious conservation goals ever undertaken for a single species. Launched in 2010, the project set a target to double wild tiger numbers by 2022, the next Chinese Year of the Tiger.

Becci added: "This is an achievement that not only offers a future for tigers in the wild but for the landscapes they inhabit and the communities living alongside this iconic big cat."

The illegal wildlife trade, habitat destruction and fragmentation remain a real threat to tiger populations. In much of Southeast Asia, snares are the primary threat to tigers and a major contributor to the fact that they are presumed extinct in Cambodia, Laos and Vietnam.