Animal susceptibility to coronavirus study gets funding boost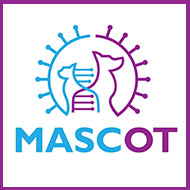 Research could pave the way to a greater understanding of COVID-19.
A grant worth almost £200,00 has been awarded to researchers at the Royal Veterinary College (RVC) to examine companion animal susceptibility to coronavirus infections.

The funds, awarded by UK Research and Innovation, could lead to a greater understanding of why certain people are more susceptible to COVID-19, and may also identify new treatment targets.

Led by Professor Lucy Davison, the MASCOT (Mapping Animal Susceptibility to Coronavirus: Outcomes and Transcriptomics) project will examine two common veterinary coronaviruses: Canine Respiratory Coronavirus (CRCoV) in dogs, and Feline Infectious Peritonitis (FIP) in cats.

Both viruses share similarities with the virus that causes COVID-19, meaning that studying these naturally-occurring infections in pets could provide new insights into coronavirus biology.

"At the moment, we do not know precisely why certain individuals are more susceptible to COVID-19, and whether this difference in susceptibility has a genetic basis," explained Professor Davison. "This project will seek to address this gap in our knowledge by studying genetic susceptibility to the common coronaviruses that are treated by veterinary clinicians and, in doing so, pave the way for a greater overall understanding of COVID-19."

Along with researchers from the Universities of Cambridge, Oxford and Manchester, the RVC will study genetic susceptibility to CRCoV and FIP to understand which genes are involved in severe outcomes after naturally occurring coronavirus infections.

"We look forward to working with colleagues at the University of Cambridge, the University of Oxford and the University of Manchester to improve our understanding of how to predict or treat severe coronavirus-associated conditions," Professor Davison added. "We hope to make an important contribution to addressing the many challenges caused by the COVID-19 pandemic."

UKRI is the national funding agency which invests public money in science and research in the UK. Earlier this year, the organisation called for new research that could deliver a significant contribution to the understanding of, and response to, the COVID-19 pandemic.