Nottingham vet students return to campus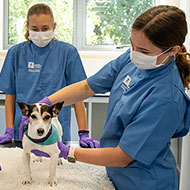 Students are among the first in the UK to resume face-to-face teaching.

Veterinary students at the University of Nottingham are some of the first in the UK to return to face-to-face teaching today (27 July) following the coronavirus lockdown.

Some 150 students will return to the University's Sutton Bonnington Campus with a package of health and safety measures in place, including staggered arrival times and a new one-way system.

Students will live in cluster flats that will be treated as a household and will remain in these 'bubbles' for their teaching sessions to avoid exposure to larger groups. Hand sanitiser will be available at building entrances, and there will be enhanced cleaning in both teaching buildings and accommodation.

The returning students are from the School of Veterinary Medicine and Science's first-ever April cohort, following Nottingham's ambitious move to become the first vet school in the UK to operate a dual-intake system. The new measures will be used as a blueprint for the arrival of students on the University's UK campuses when the new academic term begins on 21 September.

University of Nottingham registrar Dr Paul Greatrix said: "Our campuses are going to look a little different for a while as we continue to follow the latest guidance from government, the Department of Education and others to protect the health and safety of our staff and students.
"However, we've been working around the clock to ensure that the new academic year will begin as planned on 21 September with a blended approach to learning and a strong emphasis on face-to-face teaching."

Since joining the University at the height of lockdown, the students have been participating in a full and successful programme of technology-assisted Fresher's Week and teaching activities. The early return of the April cohort will enable face-to-face teaching that cannot be delivered remotely, specifically essential animal handling and health and safety skills.
Amy Thornton from Yorkshire said that she was excited to finally move into campus and meet everyone she has been talking to online for months.

"I think we all know it's going to be strange, and it definitely hasn't been the start to Vet School that we expected, but as a group, I feel, we have risen to the unexpected circumstances and made the best of it!" she said. "I am most excited for the practical teaching sessions we have got coming up, having spent the last three months palpating my dog so I am sure she will be glad to get a rest."