Mind Matters to host online reflection sessions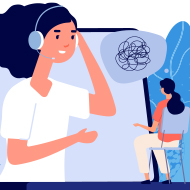 Themes will include 'juggling it all' and 'believing in myself'

A series of free online sessions to help veterinary professionals reflect on the emotional aspects of their work are to be held by the RCVS Mind Matters Initiative.

Mind Matters Manager Lisa Quigley will facilitate the 'Reflection Time' sessions, which will be hosted in the afternoon and evening to ensure they can be accessed by people with different working or caring responsibilities.

The themes and timings are as follows:
Support from my team – Wednesday 29 July
Everyday leadership – Thursday 20 August and Thursday 27 August
Juggling it all – Thursday 17 September and Thursday 24 September
A lesson learned – Thursday 22 October and Thursday 29 October
Believing in myself – Thursday 19 November and Thursday 26 November

Lisa will also be hosting a free series of informal online 'Lunchtime Learning' sessions in which she will give an overview of Mind Matters activities and how to get involved. Broader issues around mental health and wellbeing in the professions will also be covered. Each session starts at 12.30 pm and will take place on:

Friday 31 July
Friday 28 August
Friday 25 September
Friday 30 October
Friday 27 November

Lisa Quigley commented: "The Mind Matters Reflection Time sessions are an excellent opportunity for members of the profession to take themselves away from their clinical day-to-day work and to pause and reflect on the more emotional aspects of themes such as support, leadership, work-life balance and learning culture. All members of the practice team are welcome, including veterinary and veterinary nursing students.

"The feedback that we had from the previous sessions was very positive, with many saying they valued the opportunity to share and reflect on their experiences in a safe space. I look forward to hearing the reflections of members of the profession about these important topics and helping them to integrate their insights into working life, as well as introducing people to the excellent work of the Mind Matters Initiative via the Lunchtime Learning sessions."

Details on how to sign-up are available on the Mind Matters Initiative website.