New equine wound management resources launched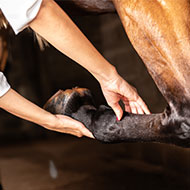 Guidelines cover wound lavage and topical treatments.
A new bank of wound management resources to support equine practitioners has been launched by the BEVA.

Among the new resources include BEVA's Primary Clinical Care Guidelines on Wound Management, published in the Equine Veterinary Journal, and the launch of BEVA's first-ever virtual CPD course: How to Heal Wounds – a Masterclass for Vets and Nurses.

Despite wounds being the second most common emergency in horses, the availability of evidence-based resources for their management and treatment are limited. The new guidance covers the key areas of wound lavage and topical treatments; wound debridement and closure and therapeutics for wound healing.

Project lead Sarah Freeman said: "These guidelines are aimed at the vast majority of our membership who are primary care practitioners. Topics covered are voted for by BEVA's panel of specialists and represent a benchmark in time against the strength and weakness of evidence that support it."

A standard practice in human medicine, clinical guidelines are proven to influence clinical decision making in clinical settings. The publication of the would management guidelines follow BEVA's recently-published recommendations on the safe use of analgesia in horses.

The How to Heal Wounds course is aimed at mixed and equine practitioners and veterinary nurses who encounter wounds in horses. Led by Dr Patrick Pollock, the course will provide key concepts of wound physiology and introduce new treatment ideas and modalities designed to optimise wound healing.

Tim Mair, chair of BEVA's Education Committee, commented: "This course is an absolute masterclass for vets and vet nurses. It contains 12 on-demand recorded lectures, together with the opportunity to attend up to three live discussions with the speakers.

"The final live discussion will provide the opportunity for the delegates to troubleshoot with our speakers after being able to go and practice the skills and knowledge learnt on the course."

The course begins in August 2020 and is £65 for BEVA members (£130 for non-members) and will provide access to all the course resources for up to a year.