Filly birth offers hope for rare horse breed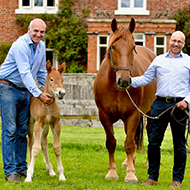 New arrival follows innovative approach to sex-sort semen.

Equine reproduction specialist Stallion AI Services has announced the birth of a healthy filly Suffolk Punch foal, which, in a world-first, was created using sex-sorted sperm to determine the gender.

The experts used specialist equipment to sex-sort the semen before insemination based on the difference in DNA content between X and Y bearing spermatozoa. The foal was born to mother Ruby, owned by Nottingham Trent University, and father Holbeach Iggy, owned by Mike Clarke of Holbeach Farm, Suffolk.
Ruby and Holbeach Iggy were chosen and matched based on their DNA as part of a project between The Rare Breed Survival Trust and Nottingham Trent University. The project uses pedigree information to enable the breeding of small populations in a way that minimises the risk of inbreeding and genetic decline.

"This is tremendous news for anyone concerned with the conservation of our native equines," explained Christopher Price, chief executive of the Rare Breed Survival Trust. "The most effective way of increasing the population size of this very rare breed is by increasing the number of fillies being born.

"The project demonstrates the viability of using new techniques for selecting female foals in order to increase the breeding population much more rapidly than could be achieved through relying on traditional methods. We hope it will prove to be a model for more projects in the future."

Currently, there are estimated to be just two female Suffolk Punches remaining in the UK and less than 300 in the world. With every female born vital to the survival of this species, researchers believe this new technology could provide a lifeline to this critically endangered species.

Dr Gareth Starbuck, Head of Animal and Equine Sciences in Nottingham Trent University, said: "The birth of this foal marks a major step towards securing the future of the Suffolk horse and all other rare animal breeds. We are overjoyed that the eleven-month wait has resulted in success and I want to thank everyone who has played a part in it.
"It has been a pleasure to work with the Rare Breeds Survival Trust to further develop the process of mare and stallion matching amongst rare breeds."