Battersea issues guidance on separation anxiety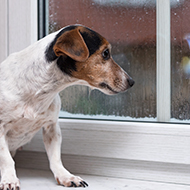 Advice to help pets cope with owners' post-lockdown routines.
Animal welfare charity Battersea has issued new guidance for pet owners to help cat and dogs cope with separation anxiety and everyday routines post-lockdown.

With many pet owners returning to work, Battersea says that it has issued the advice to make the transition 'as smooth as possible' for the nation's pets.

Ali Taylor, head of canine behaviour at Battersea commented: "As pets across the country have adjusted to having their owners at home 24/7, some dogs and cats may find it distressing to spend more time alone. While dogs are more likely to suffer from separation anxiety, cats can also find it stressful when their routine changes suddenly.

"There are steps every owner can start taking now to ease this anxiety and Battersea is always available for advice if you need more help."

The charity advises owners who are currently working at home to begin working in a different room from their pet, and to set their alarm for the same time they would normally would go to work.

'When you go to your desk to start work, give your dog or cat any toys and treats you normally would when you leave the house,' Battersea writes. 'If you haven't been utilising enrichment toys previously, now is the ideal time to give them a try – puzzle feeders are great at keeping both dogs and cats mentally stimulated.'

The charity has also recorded a video on separation anxiety which can be found here.