Chicken survives 90-mile journey under a lorry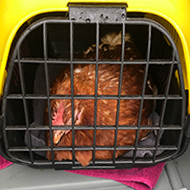 Brave bird left completely unscathed by her ordeal.

A chicken has been rescued by the RSPCA after surviving a 90-mile journey wedged underneath a lorry.

The bird had travelled from Lincolnshire to Hertfordshire under an egg delivery trailer, and even layed an egg herself!

She was found by staff at a food delivery company in Borehamwood after the lorry pulled into the industrial park. The staff managed to contain her in a cardboard box with some pine nuts and water before contacting the RSPCA for help.

"The journey would have been a feat of 'hendurance' for this little explorer but thankfully, the brave bird was completely unscathed," commented Inspector Nicole Smith, who came to collect the hen.

"She was a little bedraggled from the wet and windy two-hour journey but she certainly wasn't in a flap when she was found. The staff put her in a cardboard box where she made herself so comfortable that she laid an egg!

"The delivery company was unable to trace where the bird had come from so she was signed over to the RSPCA. I knew I could find her a loving home and I was right!"

Several phone calls later, Nicole managed to find the hen a home with Hilary Carlen who has adopted farm birds from the RSPCA before. The hen, who has now been named Henrietta, is said to be thoroughly enjoying her new home.

"She's a pretty strong hen. I don't think most hens would have survived that kind of stress. She's particularly robust as she seemed absolutely unruffled," said Hilary.
"She's settled in well with my other six hens, three of which are also RSPCA rescues. She's very amiable and friendly and doesn't mind being handled. I'm so glad I was able to give another rescue hen a loving home."
Image (C) RSPCA.