SRUC vets to support COVID-19 testing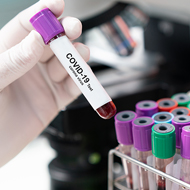 Moredun-SRUC team is the first major veterinary unit to support NHS labs.
Veterinary staff at Scotland's Rural College (SRUC) are lending a helping hand to the NHS by testing samples of COVID-19.

The team are working with colleagues at the Moredun Research Institute to assist with the testing, in high-containment facilities that are normally used to research livestock diseases.

By repurposing laboratory space and equipment, the team says that it hopes to help NHS colleagues by providing capacity for around 1,000 tests a day.

"We are delighted to join forces with Moredun to bring our collective expertise and diagnostics capacity to support NHS Scotland," said SRUC principal and chief executive, Professor Wayne Powell. "This is a 'team Scotland' approach and demonstrates our willingness to share facilities, innovate and adapt our working practices to deliver a public good in the national interest."

In recent weeks, the combined Moredun-SRUC team has been working closely with NHS Lothian to ensure that testing will be carried out to NHS standards, fully integrated into NHS systems, with training and support provided by NHS clinical staff.

It is the first major veterinary unit to support NHS labs to help with COVID-19 testing in the UK, demonstrating the benefits of a One Health approach. The team have developed working methods to ensure that their vital veterinary surveillance work will continue.

"I am delighted to see this example of One Health in action," commented Sheila Voas, Chief Veterinary Officer for Scotland. "This combined effort between the world class team at Moredun and SRUC has shown how vets and medics can work together to support the NHS and combat this pandemic."