Street Paws awarded Petplan Charitable Trust funding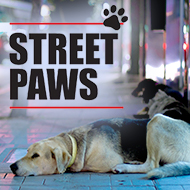 Funding will enable the charity to continue vital outreach work during COVID-19.

Veterinary charity Street Paws has been awarded £7,000 of funding from the Petplan Charitable Trust to fund its mobile outreach sessions.

Street Paws provides free, accessible veterinary care to homeless people and their pets in 24 locations across the UK. Run entirely by volunteers, its outreach service offers health checks, microchips, vaccinations, flea and worming treatments and food. The charity also funds treatments and procedures referred to local veterinary practices, such as neutering.

Owing to the COVID-19 pandemic and the accompanying lockdown, Street Paws had to suspend its outreach sessions. However, the charity says that it has been busier than ever before - providing emergency veterinary care and vital dog food deliveries to those most in need.

Street Paws, which has not directly benefited from Government funding or support, said that the PetPlan award has already relieved some of the financial burden during these difficult times.

"This fantastic Award from Petplan Charitable Trust will ensure that our outreaches will be able to continue as the lockdown is eased," said Michelle Southern, director of Street Paws. "As most of our planned fundraising activities have been affected this year, the award enables us to continue to provide the veterinary treatments that our clients deserve, and will allow us to set up a service in new areas of need."

David Simpson, chair of the Petplan Charitable Trust, added: "Street Paws are an inspiring group providing support for the homeless and their pets and the Petplan Charitable Trust is delighted to be supporting them."

Founded in 1994, the Petplan Charitable Trust (PCCT) aims to promote the health and welfare of animals in the UK and beyond, by funding advances in veterinary science as well as supporting charities committed to animal welfare. To date, the charity has helped more than 300 charities and awarded 890 grants totalling over £11.5 million.