BSAVA publishes new edition of veterinary nursing textbook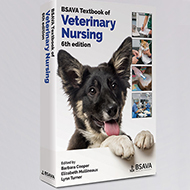 Book includes three new chapters and an appendix on veterinary terminology.
The BSAVA has announced the publication of a new Textbook of Veterinary Nursing.

This sixth edition of the book sees Barbara Cooper, Elizabeth Mullineaux and Lynn Turner reprise their roles as editors, working with new and returning authors to update the core text.

It includes a new appendix on veterinary terminology, a thorough index, and three new chapters: nursing interventions in hospitalised animals; nurse-led clinics; and managing the hospital ward and basic patient care.

"The range of skills expected from the registered veterinary nurse (RVN) is highlighted by the length and breadth of this completely updated textbook," said BSAVA senior vice president, Sue Paterson.

The Textbook of Veterinary Nursing is tailored to meet the needs of veterinary nurse students undertaking their Level 3 Diploma or Degree in Veterinary Nursing, as well as recently qualified veterinary nurses working in practice.

The sixth edition introduces the full range of veterinary nursing skills, theory and knowledge that students and recent graduates are expected to demonstrate.

Each chapter starts by listing learning objectives and ends with self-assessment questions, as well as providing key references, further reading and useful websites. A new appendix on veterinary terminology and a thorough index help make this an accessible resource.

The BSAVA Textbook of Veterinary Nursing, sixth edition is available to buy from the BSAVA website or by phone on 01452 726700 (£65.00; BSAVA members: £45.00).