New app to support pet health during COVID-19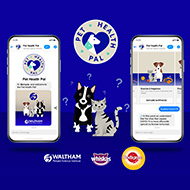 Digital tool will give owners quick access to valuable advice.

A new app to support the health and wellbeing of pets during the COVID-19 pandemic and beyond has been launched by Mars PetCare in collaboration with the Waltham Science Institute.

The free Pet Health Pal app, powered by the Facebook Messenger and WhatsApp chatbot system, is being launched both in the UK and USA. It will answer questions from owners related to pet health and ownership, covering topics such as health, food, exercise and happiness.

The tool is the first of its kind, specifically in today's COVID-19 environment, and forms part of Mars' mission 'to create a better world for pets'. Helen Warren-Piper, general manager of Mars PetCare UK, explains:

"During COVID-19, a number of pet parents have got in touch with questions and concerns about how best to take care of their pets during the pandemic. This is why at Mars Petcare we are launching the "Pet Health Pal" app, giving pet owners in our pet-loving nation easy and quick access to valuable advice and resources provided by experts at the Waltham Petcare Science Institute.
"From pet nutrition to general wellbeing "Pet Health Pal" will help pet parents give their four-legged friends the best possible care."