Lockdown rescue pets star in new Battersea advert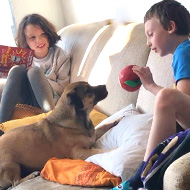 Advert celebrates the joy and comfort rescue pets bring their owners.

Battersea Dogs and Cats Home has launched a new advert celebrating the quirks of rescue animals and the joy they have brought their owners during the coronavirus lockdown.

It comes as new figures released by the charity show that 75 per cent of UK owners say their pet is helping them during the nationwide quarantine, from giving cuddles on the sofa to providing temporary relief from the news.

More than 1,000 people submitted video clips and pictures of their rescue pets to Battersea's new Rescues to the Rescue advert, including Naomi Hannah from south-west London.

Naomi, who adopted mongrel Potato in 2017, said: "Now we're in lockdown, Potato is loving having us all around. He's a great distraction from the news cycle and it's amazing for the kids. My stepson has special needs and Potato is like his therapy dog. It's been hard for him to adjust to what's been going on, but Potato has provided some consistency for him."

The new advert celebrates the laughter, joy and comfort rescue pets are bringing their owners and asks people to lend their support to the charity, which continues to care for cats and dogs despite the challenges arising from coronavirus.

"The devotion and companionship our rescue pets are providing is more important than ever. Every day we hear stories from owners saying how much of a difference their rescue pet has made to their lives," said Battersea's rehoming and welfare manager, Becky MacIver.

"There are so many rescue dogs and cats helping their owners right now - and many more who are still waiting for their chance in rescue centres across the UK. Now more than ever, Battersea needs support to help us be here for every dog and cat that needs us".

Battersea ambassador Paul O'Grady added: "I would never have predicted I'd find myself locked down with four dogs but I couldn't choose better company. I can always rely on them to put a smile on my face, no matter how bleak the news is. They've made my life a bit brighter while I've been in isolation and I'm thankful for that.

"There's something special about the love you get from rescue pets - it's almost as if they know you gave them a second chance, so they pay you back with a bit extra and I think we all need that right now. I've seen for myself the difference Battersea makes to every dog or cat that comes through its doors - now they need our support so they can keep making that difference."
Image (C) Battersea Dogs and Cats Home.