Vaccine uptake project receives funding boost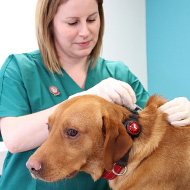 Researchers to investigate vaccine hesitancy in the UK's pet population.

The Small Animal Veterinary Surveillance Network (SAVSNET) has been awarded £50,000 from PetSavers – the charitable arm of the BSAVA – to develop strategies to improve vaccine uptake in companion animals.

The University of Liverpool-based project, A mixed-methods approach to quantifying and characterising vaccine uptake and vaccine hesitancy in UK companion animals, will combine quantitative analysis of existing data from electronic health records with qualitative approaches.

It will involve focus-group discussions and interviews with vets and owners to gain an in-depth understanding of patterns of uptake of vaccination in the UK. Researchers also aim to investigate the perceptions and behaviours around the uptake of vaccination and the rise of vaccine hesitancy.

The funding will be matched by the University of Liverpool, and potential PhD students are invited to submit applications to work with the researchers.

Project lead Dr Gina Pinchbeck commented: "Vaccination is a vital component of preventive healthcare and it is well acknowledged that sub-optimal vaccination uptake may be associated with re-emergence of vaccine-preventable diseases in populations.
It is essential that we understand the reasons for vaccine hesitancy in the pet population so that we can use the best methods to promote vaccine acceptance and uptake and this will be the primary focus of the study."

SAVSNET maintains an ongoing collaboration with the BSAVA to harness electronic health and environmental data for rapid and actionable research and surveillance.

This latest project comes in response to the declining rates of pet vaccination. According to research conducted by the PDSA in 2017, only 75 per cent of dogs had received a primary vaccination course when young, and a further fall was noted by the charity in 2019 (72 per cent).

BSAVA president Professor Ian Ramsey added: "This project will be of great value to the veterinary profession and continues the co-operation between BSAVA and the University of Liverpool to build on the successes of the original SAVSNET partnership."

For information on how to apply for the PhD, contact Dr Gina Pinchbeck (ginap@liverpool.ac.uk) or visit findaphd.com