Blowfly risk rises to 'medium' in southern England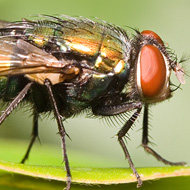 Warmer weather triggers NADIS alert system.

The risk of blowfly strike has risen to 'medium' in parts of southern England, according to the NADIS and Elanco Blowfly Alert System.

The Blowfly Alert System predicts the emergence of blowflies based on Met Office Data to help vets and farmers predict the risk of clinical ceases and help treatment timings.

The alert states: "As a result of recent warmer weather the blowfly strike risk has now started to rise in southern England. Even in areas where the strike risk is still low, occasional strikes may occur, so care is needed.

"Strike risk typically changes very slowly at the start of the season, but lowland ewes with dirty back ends can be particularly susceptible before shearing at this time of year."

Blowfly strike causes serious discomfort to sheep and is estimated to affect around 80 per cent of farms in the UK. It can have a serious impact on welfare and productivity, costing the industry some £2.2 million every year.

Farmers are advised to check their flock 'at least once a day' and to look out for the signs of blowfly infection, which include irritation, nibbling at the tail and increased tail swishing.
The advice also calls on farmers to discuss preventative treatments with their vet or SQP, based in the age of their lambs during the risk period and anticipated slaughter dates.