Weight gain in horses a major concern for owners, survey finds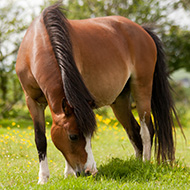 Researchers assess the impact of lockdown on horses' routines.

More than half of horse owners in the UK have expressed concern about their horses gaining weight during lockdown, according to new survey results.

Some 54 per cent of horse owners said their biggest feed-related concern during this time was weight gain, while 41 per cent were worried about laminitis.

The worrying findings come from an online survey conducted by feed manufacturer SPILLERS to find out more about the effects of lockdown on horses' routines.

It found that while 65 per cent of respondents had not changed their management routine during lockdown, 12 per cent said they were now turning their horses out 24/7. An additional nine per cent had introduced strip grazing or a grazing muzzle to manage grass intake.
Furthermore, it found that those who had been previously riding had now stopped and, in answering the question about feed-related concerns, 21 per cent of respondents were worried about fizzy or excitable behaviour.

In response to the findings, SPILLERS is drawing attention to its online library of resources and has produced additional tips for horse owners to minimise the risk of weight gain in their animals.
SPILLERS marketing and research development director Clare Barfoot said: "We organised the survey to see where and how people might need support and guidance for their horses during this very difficult time.

"Obesity and laminitis are serious issues, especially now that the grass is growing in abundance and, in particular, 24/7 turnout coupled with reduced exercise can significantly increase the risks. Now that the BEF has revised its advice and more people are likely to start riding again, excitable horses and fizzy behaviour may also become a bigger concern.

"We are now actively signposting owners towards our collection of online blogs, tips and advice to help owners minimise the risk of weight gain and reduce excitability in their horses."