"I would like to see the veterinary nurse title protected"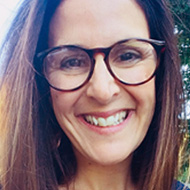 New VN Council member Claire Roberts shares her hopes for the future of veterinary nursing.

Claire Roberts was recently elected to VN Council and will take up her four-year term at the RCVS Annual General Meeting later this year. We caught up with Claire to find out what made her decide to stand for election and what she hopes to achieve in the coming term.
After qualifying as a veterinary nurse in 2000, Claire worked in referral practice where she gained the Diploma in Advanced Veterinary Nursing. She has since worked as an assessor, internal verifier and assistant examiner for the RCVS and lecturer in veterinary nursing.
Claire currently works as a senior theatre nurse at Anderson Sturgess Specialists and runs her own CPD company. Her interests include anaesthesia, surgical nursing, pain assessment and management and critical care of surgical patients.
Why did you decide to stand for election?

I decided to join VN council to give something back to the profession that has given so much to me. I believe that this is the right time in my professional career and stage of life that I can use the experience I have gained in my career as a clinical nurse and educator.
What are you hoping to achieve during your time on VN Council?.
I want to be a good role model. I believe there is an energy and drive in the VN community at the moment and I want to try and keep that momentum moving forwards. Giving veterinary nurses a voice to be respected as a profession within our own right and to be developed and utilised to our full potential. I want to encourage collaborative inter-professional learning which helps build teams and understanding of roles within the profession.
What changes would you like to see within the College and the wider veterinary nursing profession?

I would like to see veterinary nurses positioned within the practice setting as skilled professionals that are utilised and respected for their skill set. I would like to see a clearer career pathway and financial reward that enables nurses to make veterinary nursing a career for life. I would like to see the veterinary nurse title protected
Where do you see the veterinary nursing profession a decade from now?
I would like to see nurses staying in the profession because it is a career for life and greater development for specialist nursing roles within the primary care sector.
What do you feel the College can to do help better support its members?
Maybe this is a question better answered a year from now, but I would like to see recognition and legal support for nurses who take on further advanced qualifications enabling them to apply that learning into clinical practice.