Vet issues plea for help with African Horse Sickness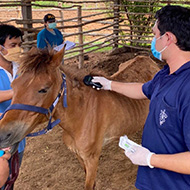 Disease 'a welfare disaster' for potentially thousands of horses in Thailand.
Internationally renowned vet Dr Siraya Chunekamrai has issued a plea for help to tackle a lethal outbreak of African Horse Sickness (AHS) that has killed 500 horses in Thailand and has the potential to kill thousands more.

Dr Chunekamrai, who is
WSAVA vice-president and chair of the Lampang Pony Welfare Association,

is leading the urgent vaccination efforts by equine veterinary volunteers in the country. She has also launched an international fundraising appeal to support the purchase of essentials, including vector protection nets.

"This is a welfare disaster for hundreds, possibly thousands of horses in Thailand," explains Dr Chunekamrai. "It is equally disastrous for their owners, many of whom depend on them for their livelihood.

"Despite the restrictions in place because of the COVID-19 pandemic, veterinarians across the country are working tirelessly to reduce the suffering of horses in Thailand and to help owners to protect their animals. We are determined to control the disease and regain our country-freedom from AHS status."

AHS is listed as Notifiable by the World Organisation for Animal Health (OIE) owing to its severity and risk of rapid, global spread. The mortality rate stands at around 95 per cent, with symptoms including fever, depression, conjunctivitis, swelling above the eyes and lips and dyspnea.

The spread of AHS is controlled by keeping horses in stables behind fine insect nets. But because the insects can squeeze through the tiniest of gaps, the nets and stable walls must be filled with sealant and sprayed with an insecticide.

Educating owners about netting is one of the biggest challenges Dr Chunekamrai's team faces. Therefore, funds raised from the appeal will help poorer communities who cannot afford or do not realise the importance of finer netting.

Vaccines are currently only being administered to horses that have undergone PCR and serology testing to ensure only uninfected animals are vaccinated. Horses are being placed behind effective netting and microchipped so that they can be easily identified later for vaccination.


Dr Chunekamrai continues:

"There is much work to be done before we achieve our goal, however, and we are desperate for funds to help us buy netting, insecticides, feed and other essentials to help poorer Thai people to protect their horses from this dreadful disease. We would be grateful for any donations to support our work at this difficult and heartbreaking time."

For more information about the appeal and to donate, visit the Lampang Pony Welfare Foundation.