Study highlights value of longer consults for discussing antibiotics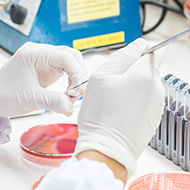 Scientists review the UK Government's five-year AMR strategy.
Longer consults could provide vets with better opportunities to discuss prescribing antibiotics with pet owners, according to new research.

The study by the Royal Veterinary College (RVC) in partnership with the London School of Hygiene & Tropical Medicine reviewed the Government's five-year antimicrobial resistance (AMR) strategy from 2013-2018.

It found that by adopting a One Health approach, the Strategy has instilled a shared sense of responsibility for tackling AMR across the human and animal health sectors. Among their key findings include:


identifying the different stages in which the livestock sector is improving the way it uses antibiotics and records data, with some private industry groups and professional bodies demonstrating strong leadership in implementing the Strategy
the potential value in longer consultation times for veterinary surgeons, which will provide them with better opportunities to discuss prescribing antibiotics with pet owners
the need for more data, over a longer period, to assess the impact of the guidelines and voluntary efforts to reduce the use of antibiotics in animals
the need for greater collaboration with regards to the surveillance of AMR and the data on the use of antibiotics across animals and people, to allow for easier comparison in a One Health perspective.

The Government's Strategy aimed to slow the development and spread of AMR by focussing on three key aims: improving the knowledge and understanding of antimicrobial resistance, conserving and stewarding the effectiveness of existing treatments, and stimulating the development of new antibiotics, diagnostics and novel therapies.

In the study, researchers assessed the implementation of the Strategy in human and animal health across the UK, along with the interim findings provided to the Department of Health and Social Care in 2018.

Dr Barbara Haesler, RVC senior lecturer in agrihealth, said: "There are certainly still challenges ahead, and the RVC looks forward to working with our colleagues across academia and Government to identify the best way forward in the coming months and years so that we can tackle the worrying possibility of widespread antimicrobial resistance head on."

Professor Nicholas Mays, director of the Policy Innovation and Evaluation Research Unit at the London School of Hygiene & Tropical Medicine, adds: "As well as highlighting the progress we have made in AMR data reporting, our research found that rapidly and cheaply distinguishing bacterial infections from viral infections in routine human and animal care still remains a challenge. We are delighted to have worked closely with RVC to highlight key areas of this complex problem."