Funding boost for pig wellbeing projects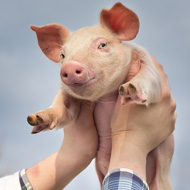 Vets and researchers invited to apply for new Care4Pigs grant

A €30,000 grant intended to help vets, farmers and researchers advance the wellbeing of pigs has been launched by Bayer Animal Health.

The global Care4Pigs initiative will give three candidates the chance to receive €10,000 each to support and drive innovative pig wellbeing projects.

It comes in response to growing emphasis for livestock professionals to ensure the wellbeing of their animals.

Almut Hoffmann, head of farm animal products marketing at Bayer Animal Health, said: "We see remarkable and forward-thinking work on pig operations around the globe and we're pleased to extend our support and collaborative knowledge through Care4Pigs to further benefit pig wellbeing."

The initiative has been launched in collaboration with the Farm Animal Welfare Education Centre (FAWEC) and the Korean Association of Swine Veterinarians (KASV).
Farmers and farm staff, practising vets, as well as researchers and graduate students in veterinary medicine, agricultural or animal sciences are invited to apply.

Submitted projects must demonstrate innovative, practice-oriented ways to improve pig wellbeing at farm level, and must also be either already underway or planned to start by early 2021.

Judges will be looking for submissions that demonstrate an innovative approach and measurable benefit on pig wellbeing.

Octavio Orlovsky Eckhardt, head of swine species marketing at Bayer Animal Health, added: "Each project's on-farm practicality and applicability through different systems and production conditions will also be considered during the judging process, as well as its economic viability."

Applications for the grant close on 30 June 2020. For more information about the grant and how to apply, please visit the Care4Pigs website.