Scientists discover longest animal ever recorded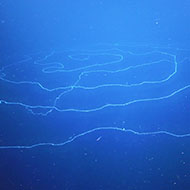 150-foot-long siphonophore found in the waters of Australia

Scientists have discovered 30 new marine species off the coast of Western Australia, including what is believed to be the longest animal ever recorded.

Researchers from the Western Australian Museum aboard Schmidt Ocean Institute's research vessel Falkor found an estimated 150-foot-long siphonophore while exploring the deep-sea canyons of Ningaloo.

Part of the jellyfish family, siphonophores are comprised of tiny individual zooids that clone themselves thousands of times to string together to work as one. Other unique finds made by the researchers included glass sponges and octopus squid.

"We suspected these deep-sea areas would be diverse but we have been blown away by the significance of what we have seen," commented chief scientist, Dr Nerida Wilson.

Dr Lisa Kirkendale, head of aquatic zoology at the Western Australian Museum and co-principal investigator added: "These specimens represent so many extensions in-depth and range records for so many species, and will form an important new part of WA Museum collections."

During the expedition, researchers used an underwater robot, ROV SuBastian, to complete 20 dives at depths of up to 4,500 meters over 181 hours of exploration.

In addition to the siphonophore, the researchers collected the first giant hydroids in Australia, discovered large communities of glass sponges, and observed - for the first time in Western Australia - the bioluminescent Taning's octopus squid.

"There is so much we don't know about the deep sea, and there are countless species never before seen," said Wendy Schmidt, co-founder of Schmidt Ocean Institute.

"Our planet is deeply interconnected–what happens in the deep sea impacts life on land–and vice versa. This research is vital to advance our understanding of that connection–and the importance of protecting these fragile ecosystems.
"The Ningaloo Canyons are just one of many vast underwater wonders we are about to discover that can help us better understand our planet."

Image (C) Shmidt Ocean Institute.