Veterinary Nurse Awareness Month goes virtual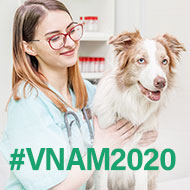 Practices urged to go online to promote the importance of RVNs

It's almost time for Veterinary Nurse Awareness Month (VNAM) (May), and with many people on lockdown, organisers have had to remove the face-to-face interactions and will be running the campaign 'online and virtual' instead.
VNAM aims to spread the word about the importance of the role of the veterinary nurse in practice and the provision of responsible pet care to the general public. It was first started by the BVNA in 2005 as National VN Day campaign and now takes place throughout May every year.

Each year, more and more veterinary practices and training colleges get involved in promoting the role of the veterinary nurse, running events such as sponsored skydives, practice open days and pet health checks
Owing to the outbreak if COVID-19, this year's campaign will be a little different, with participants being asked to take part in virtual activities that they can complete on their mobile phone, laptop or home PC.
RVNs are being urged to join in the campaign as much as possible by recording videos about why they decided to become a vet nurse and what they love about being a vet nurse. The videos should last no longer than a minute, and then shared to the VNAM Facebook page using the hashtag #whatVNsdo, #VNAM2020 and #vetnurses.

This year's competition details can be found here and consist of three categories:

design a digital poster or infographic 'Showing the role of the Veterinary Nurse'

record a short educational video of no longer than five minutes that helps pet owners care for their pets

take a picture of your pet and complete the sentence "I love my Vet Nurse because….."

There is also a digital pack that practices can download containing posters, partner logos and leaflets about a career in veterinary nursing.

To find out more about this year's campaign, and to get involved, visit www.bvna.org.uk