Wild goats take over Llandudno's empty streets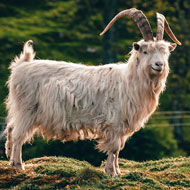 Animals have been providing welcome distraction to self-isolating residents

Residents in Llandudno, Wales, got quite the surprise last week when a herd of wild goats ventured into the town, feasting on garden plants and hedges.

According to BBC News, some 122 Kashmiri goats wandered into the streets from Great Orme, a headland situated to the North West of Llandudno.

The goats are regular visitors to the town, but usually only in bad weather. Town councillor Carol Marubbi believes this latest visit could be due to the coronavirus outbreak, with more people staying inside.
"They are curious, goats are, and I think they are wondering what's going on like everybody else," she said. "There are very few visitors on the top [of the Orme], so they have come down in their droves. There isn't anyone else around so they probably decided they may as well take over."

Ms Marubbi added that the goats have been providing "free entertainment" to people from their windows and that residents were "very proud" of their four-legged visitors.

Llandudno resident Andrew Stuart has been posting regular updates about the goats on Twitter. In a series of tweets on Friday (27 March), he joked that he had 'got a group of goats arrested' after he spotted them nibbling on hedges.

The self-proclaimed 'goat correspondent' wrote: 'I gave @NWPolice a call to tell them a load of kids (geddit?) were running riot (I didn't actually say that... sadly). They said they'd pass it on to officers'.