New animal and human health research facility opens in Edinburgh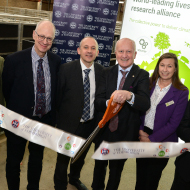 Facility will study how to produce livestock that are genetically more resistant to disease

A new £25 million facility designed to boost research into livestock and human health has been opened at the University of Edinburgh.
The Large Animal Research Imaging Facility (LARIF) will research how to produce livestock that are genetically more resistant to disease. Based at the Royal (Dick) School of Veterinary Studies' Easter Bush Campus, the facility will also research and develop improved vaccines for animals.
Furthermore, scientists at the facility will safeguard human health by helping to tackle food-borne infections and developing strategies against antimicrobial resistance.
The LARIF leverages state-of-the-art technology to offer in-depth studies into the health and wellbeing of all major farm livestock, including surgical, gene-editing and infection containment facilities.
Also housed at the LARIF is the Wellcome Trust-funded Critical Care Laboratory for Large Animals, which supports the study of large animal biology with all the resources of a human hospital.

European and RCVS-registered specialists in veterinary anaesthesia will provide 24-hour care for the animals involved in studies in the facility. Advanced, onsite-medical imaging equipment will also allow studies into degenerative and neurological diseases, body composition and the anatomy of large animals.

The facility was officially opened by Professor John Loughhead, Chief Scientific Adviser to the UK Department of Business, Energy and Industrial Strategy.
 He said that agricultural technologies are important in supporting the agriculture industry to cut its emissions and develop sustainable farming practices.
"The LARIF illustrates the positive effects of successful collaboration between academia, industry and the Government in spreading knowledge and expertise while developing the technologies of the future," he added.
Besides seeking to further understand livestock diseases, researchers at LARIF will also investigate human conditions. This means that treatments developed in large animals are more likely to be successful in people than those tested using rats and mice, helping to reduce the number of animals used overall.

"The LARIF is a unique and world-leading facility that significantly enhances our ability to study human and animal health," said Professor David John Argyle, head of the Royal (Dick) School of Veterinary Studies. "Taking this multidisciplinary approach is a key focus for the University and can lead to significant advances in medicine, veterinary medicine and agricultural science."
Image (C) University of Edinburgh.