Cooked bacon and sausages used to rescue lost dog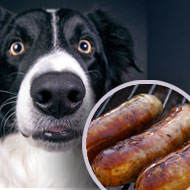 Smell of cooking food used to lure nervous collie

A border collie that went missing in Fisherfield Forest in the Scottish Highlands was found after mountain rescuers used the smell of cooking bacon and sausages to lure the dog to safety.
The dog, named Nell, was frightened off in the early hours of Sunday morning by a helicopter used in a rescue mission to find her owner.
The following day, off-duty members of the Dundonnell Mountain Rescue Team Alison Smith and Rachel Drummond returned to the area with their dogs, along with a winter mountaineering kit and a disposable barbecue.
A spokesperson for Dundonnell Mountain Rescue Team said: "Having walked to the vicinity of Loch an Nid, they fired up the barbecue and soon had bacon and sausages sizzling. The desired effect was soon achieved: a confused and anxious border collie appeared on the horizon, on a rocky hillside."
After being lured closer by the smell of the food, Nell was secured and treated to a picnic lunch before being walked back to the roadside by her rescuers. The collie was thankfully unharmed and is has now been safely reunited with her owners.