Pig starts fire after eating pedometer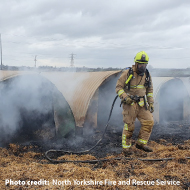 Yorkshire fire crews extinguish blaze on farm

Fire crews were called to a farm near Bramham, Leeds on Saturday, after a pig accidentally caused a fire which spread through four pig pens.
According to the North Yorkshire Fire and Rescue Service, the fire was started by a battery-powered pedometer which had been swallowed and then excreted by one of the farm's pigs.
It is believed that the copper from the batteries had reacted with the pig's excrement and dry bedding, igniting and burning approximately 75 square metres of hay. No animals or people were harmed.
The pedometers were being used to prove that the pigs were free-range.
Teams from nearby Tadcaster and Knaresborough attended the scene at approximately 2pm. In a tweet summarising the incident firefighters said: "A hose reel was used to extinguish the fire and save the bacon."
Image (c) North Yorkshire Fire and Rescue Service.