Birds build nest in Leeds traffic light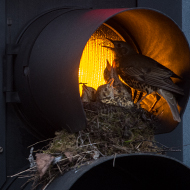 Chicks hatched during the height of storm Dennis

A traffic light in the centre of Leeds might not seem the most ideal place for a bird to build its nest, but that's exactly where a pair of mistle thrush have decided to rear their chicks.

The mistle thrush family have set up home in front of an amber traffic light. Conservationists say the eggs were laid as early as late-January and hatched in the middle of February during the height of storm Dennis.
Now, despite treacherous weather conditions, all four healthy chicks are ready to fledge the nest - something that has sparked concern among wildlife experts, given that the normal laying season for mistle thrush - also known as stormcocks - usually starts at the end of February.
"With the weather turning dramatically for much of the UK over the winter, it's very unusual for these birds to set-up nest in traffic lights, so this is certainly not creating a stormcock in a teacup!" commented RSPB wildlife advisor, Charlotte Ambrose.
"What's even more bizarre is the fact that we're seeing nesting more than a month earlier than usual as there have been unseasonably high temperatures, despite storms Ciara, Dennis and Ellen. These weather conditions are having a detrimental effect on our wildlife as eggs are being laid earlier in the year, and summer migratory visitors are arriving earlier and leaving later."
Conservationists say the heat from older versions of traffic lights could have attracted the birds during breeding season, as they provided shelter and warmth, as well as attracting insects as sources of food at night.
Newer versions of traffic lights, however, are fitted with LEDs that don't emit as much heat. But, this doesn't appear to have deterred the birds for using them to nest and raise their chicks.

Charlotte added: "2020 is a critical year for nature and global leaders are deciding the fate of our planet later this year, based on evidence around the climate and nature emergencies we're facing.
"The State of Nature report released in October showed more than 41 per cent of UK species are in serious decline and as nature is falling silent around us, it's never been more important that we all help give nature a home."
Image (C) RSPB.