Spaniel named world's first great crested newt detection dog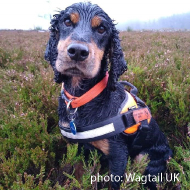 Sniffer dog's skills used to preserve Protected species

Detection dog specialist Wagtail UK has announced that a five-year-old cocker spaniel named Rocky has passed all testing and is the first scientifically proven detection dog trained to detect great crested newts.
Great crested newts are a European protected species. Difficulty finding and relocating them can pose challenges for major infrastructure projects.
But, after several years of work, Wagtail UK and its sister company Conservation Dogs have developed a safe, efficient and accurate search method to detect live great crested newts using detection dogs.
There has been growing interest in the use of detection dogs for ecological surveys in the UK, as they can cover large areas of land quickly and with greater accuracy, in a more cost effective and non-evasive manner. However, there is currently no standard methodology for testing and accreditation of dog and handler teams.
Extensive scientific testing took place over an 18-month period, with the goal of determining whether dogs could reliably distinguish the scent of a great crested newt from that of other UK amphibians, and locate the protected species in the natural environment.
Rocky has been trained to ignore smooth newts and frogs as they are not protected in the same way. When he locates a great crested newt he will sit or stand next to it without touching it and stare to alert the handler of its presence.
Managing director at Wagtail UK Collin Singer said: "This work highlights the innovative manner in which dogs can be used in conservation and to assist with ecological surveys. Four years of research, painstaking trial and error – and now success has produced a brand new, innovative method of detection dog training by Wagtail UK and Conservation Dogs to find great crested newts."
Image (c) Wagtail UK.