Rare chimp birth announced at Edinburgh Zoo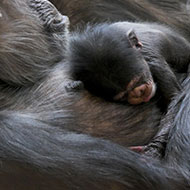 Second baby born in more than 20 years

The Royal Zoological Society of Scotland (RZSS) welcomed the birth of a critically endangered western chimpanzee on Monday 3 February at Edinburgh Zoo's Budongo Trail.
The baby girl will be named in the coming days through a public vote, and staff will carry out a paternity test during its first health check to determine the father.
Mother Heleen's first infant, Velu, was born in 2014, making this new infant only the second chimpanzee born in Scotland for more than 20 years.
Budongo Trail team leader Donald Gow said: "While we celebrate every birth, this one is particularly special because our new arrival is a critically endangered Western chimpanzee, a rare subspecies of chimpanzee."
Image (c) RZSS/Donald Gow.