AMTRA announces 2020 industry award winners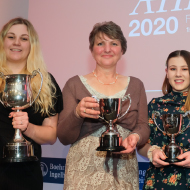 UK's leading SQPs awarded for their work

The Animal Medicines Training Authority (AMTRA) has recognised four new registered animal medicines advisors (also known as SQPs) at the 2020 Industry Awards, held during the annual Animal Health Distributors Association (AHDA) conference.
Stephanie Batehup of Carrs Billington in Longtown, Cumbria, was named overall winner and recipient of the AHDA Cup. She also received the Simon Fleet Cup as the top advisor covering all species.
Ms Batehup qualified as an SQP while working on her family's sheep farm, having just completed a first-class honours degree in Applied Animal Science with Scotland's Rural College (SRUC).
"I am extremely proud to have achieved the Overall Winner Award," she says, "I believe communication and professionalism are the key skills and qualities we must demonstrate as AMTRA registered animal medicines advisors, building the trust with the customer. This helps us dispel some of the old myths around product use."
The winner of the AMTRA Cup for best companion animal advisor is Helen Whiten of Hill Park Veterinary Group in Essex, who has been working in various roles in veterinary practices for some 15 years.
She says: "The most important part of my AMTRA role in a small animal veterinary practice is to provide clients with knowledge and advice to benefit their animals. In particular, enabling clients to understand the importance of effective treatments of endo- and ecto-parasites of their pets to improve family safety as well as pet welfare. I am delighted to have been recognised for this work."
Emma Penn, who has been a head nurse with the Willows Veterinary Group for the past 17 years, was named veterinary nurse registered animal medicine advisor of the year.
The award for best equine advisor was presented to Ellie Houston; student veterinary nurse at Harper Adams University.
Secretary general of AMTRA Stephen Dawson commented: "We are delighted to recognise the achievements of these outstanding AMTRA SQPs. It is testament to their dedication and hard-work and really reflects the commitment that we see from registered animal medicines advisors across the country."

Image (c) AMTRA.