US scientists find PFAS chemicals in cats and dogs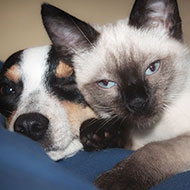 Study suggests pets could be used to monitor human exposure

Cats and dogs excrete PFAS chemicals in their faeces above minimum risk level for humans, according to a study by the New York State Department of Health.

PFAS (Per- and polyfluoroalkyl) substances are used in carpets, non-stick pans and pizza boxes and, according to health and safety experts, have become omnipresent in the environment.

Writing in Environmental Science & Technology Letters, researchers describe how they measured 15 different PFAS in 78 samples of cat and dog faeces from the Albany area of New York.
Using a chemistry technique called liquid chromatography and mass spectrometry, they found a total of 13 different PFAS in the samples. In both dogs and cats, the most abundant compounds were perfluorocarboxylic acids.
With this knowledge, the team were able to work out the estimated PFAS exposure levels for the pets.
They found that for three compounds (perfluorooctanoic acid, PFOA; perfluorononanoic acid, PFNA; and perfluorooctanesulfonic acid, PFOS), and total PFAS, estimated exposure levels were above the minimum risk level set by the U.S Agency for Toxic Substances and Disease Registry.
The researchers say that because pets share homes with people, they could be used to monitor human exposure to PFAS.