Kennel Club welcomes decision to simplify dog walking restrictions in Cornwall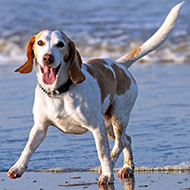 Decision follows public consultation

The Kennel Club has expressed support for Cornwall Council's recent decision to amend dog walking restrictions on Cornwall's beaches, following a broad consultation.
Currently, Cornwall Council has 48 Public Space Protection Orders (PSPOs) in place which limit when dogs are allowed on beaches, but the restrictions vary considerably.
As current protection orders are set to expire this year, the council held a public consultation last summer asking people to share their thoughts and opinions on the restrictions, as well as what changes they would like to see, if any.
Following this consultation, the council decided that restrictions will only be in place in July and August, expect on Blue Flag beaches. These new rules reduce confusion for residents and visitors and increase access to essential walking sites for dogs.
Head of public affairs at the Kennel Club Holly Conway said: "We commend Cornwall Council for this refreshing example of a PSPO that takes into account the importance of beach access for dog owners to provide their dogs with the exercise and stimulation they need.
"We wish to thank all of the dog lovers who responded to the petition, making it the council's largest ever consultation response with over 13,000 replies. As ever, impassioned responses like this from the dog owning community are crucial in ensuring that proposed PSPOs are sensitive to the unique needs of the dog owning community."