Princess Royal opens new facility at Surrey Vet School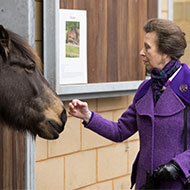 Large animal clinic gives students a chance to hone their practical skills

HRH the Princess Royal has officially opened the Large Animal Clinical Facilities at Surrey Veterinary School, marking five years since the University of Surrey welcomed its first cohort of veterinary students. 

The Princess Royal toured the School of Veterinary Medicine, where she met with staff and students and learned more about their work. She also viewed a demonstration of an innovative new equine gut model that will help researchers understand more about the gut microbiota of horses and how they are affected by diet, disease and medication.
Comprising state-of-the-art teaching aids and simulation models, the new large animal clinical facilities provide students with the chance to hone their practical skills. In a press release, the University said this 'experience enable students to reach a high level of confidence and proficiency prior to working with real animal patients'.
"We are honoured to welcome The Princess Royal to the Vet School today, and very grateful that Her Royal Highness has officially opened the Large Animal Clinical Skills Facilities," said Professor Chris Proudman, head of the school of veterinary medicine. "Preparing students for life as a vet is our number one priority; the hands-on experience they will get through the use of this facility is invaluable and enables them to give the best possible care to all animals.
"We are also very grateful to the Longhurst family, without whom these teaching resources would not have been possible – their generosity is helping us to teach the vets of the future."

The Princess Royal's visit marks five years since Surrey's School of Veterinary Medicine was officially opened by Her Majesty the Queen. More than 600 students now attend the £45 million school, which has close links with government agencies, veterinary professions and industry.
"I would like to extend my gratitude to The Princess Royal for joining us today to officially open this impressive facility," commented Professor Max Lu, president and vice-chancellor at the University of Surrey. "In the five extraordinary years since its doors opened, the School of Veterinary Medicine has exceeded all our expectations and I look forward to seeing what our current students go on to achieve in the next five years and beyond."
Professor Roberto La Ragione, deputy head of the School of Veterinary Medicine at the University of Surrey, added: "We are thankful and honoured to have hosted The Princess Royal at our School and showcased our new teaching and research facilities, that will ensure that our School of Veterinary Medicine remains among the best teaching institutions."
Image (C) University of Surrey.