ZSL Whipsnade to run Vets in Action week for children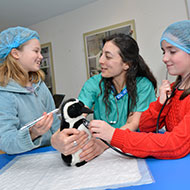 Unique experience gives insight into zoo veterinary work

ZSL Whipsnade Zoo is planning to hold a Vets in Action week this February half-term, inviting aspiring young veterinary surgeons to take part in a fun, hands-on experience managed by zoo staff.
This unique role-playing experience provides children with an opportunity to learn about the role of zoo veterinary staff, as well as what a day working in a zoo veterinary clinic is like.
At the zoo's specially created 'animal hospital', children will learn about various exotic animals and how to care for them. They will then be given the chance to carry out various veterinary treatments and examinations on soft toys.
A number of demonstrations and family activities are also available throughout the week, which will provide further insight into the zoo's 2,500 animals.
Image (c) ZSL