Otter spotted for first time in Birmingham city centre canal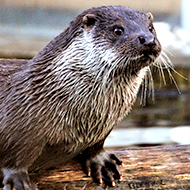 Charity's habitat restoration efforts see results

Otters have been sighted in the Birmingham city centre canal for what is believed to be the first time, during an event held by the Birmingham and Black Country Wildlife Trust.
The sighting happened during the wildlife trust's first Canal Safari and Expert Otter Talk, when customers taking part found an otter on footage taken from a camera positioned near Birmingham's Mailbox shopping centre.
Officers had previously seen signs of otters along the canal. For two years they have collected droppings - known as 'spraint' - from around the area and distinctive otter footprints have been found.
Staff also spent months installing motion sensor cameras along the canal in order to monitor the otters.
Jacob Williams, engagement officer for Birmingham and the Black County Wildlife Trust said: "It's hard to overstate how important this is. We've been setting cameras out for months, trying to catch a glimpse of the otters we know are here, we couldn't believe it when one finally appeared on camera while we were doing an otter talk."
Unfortunately, plastic found in spraint collected at the same time as the sighting raises new concerns for the trust over the pollution in the waterways.
Otters suffered a massive population decline between the 1950s and 70s, but have naturally begun to re-establish with the help of human efforts to improve their habitat.
Senior project officer, Tarun Ingvorsen added: "The return of otters to the city centre shows that they have adapted well to the urban environment and living unnoticed amongst humans. We have to make sure the waterways are kept clean and healthy - not only free from rubbish but free from the pesticides and chemicals that poison water, the environment and destroy their food supply."