NPT councillors back tougher restrictions on fireworks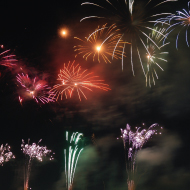 New action will enable pet owners to be better prepared

On Wednesday, 27 November, Neath Port Talbot councillors unanimously backed a series of measures that will reduce distress caused by fireworks for animals and vulnerable people.
This new initiative will encourage the sale of 'quieter' fireworks across Neath Port Talbot, and will require all fireworks displays on council land (or land subject to local authority consent) to be advertised in advance, so residents can take necessary precautions for their pets and vulnerable people.
Councillors also supported a public awareness campaign to provide advice on helping animals during fireworks.
The decision follows the launch of the RSPCA's 'Bang Out Of Order' campaign, which appeals for restrictions on the dates that fireworks displays can take place; noise limits on private displays and stricter licensing for public displays. This will allow pet owners to be more prepared for the loud noises and flashing lights caused by fireworks, which can be incredibly distressing for animals.
Lewis Clark, RSPCA public affairs adviser commented: "The RSPCA is inundated with calls each year about welfare concerns for animals connected to fireworks. But measures like those adopted by NPT councillors can make a real difference.


"Preparedness is so important - and better advertising of displays and a public awareness campaign could make all the difference in ensuring people know what steps to take to keep pets and other animals safe, and when.


"By lobbying the Welsh and next UK governments, too, for action, we hope we can make Wales a safer place for animals when fireworks are being set off; encouraging responsible use, better information and the promotion of lower-noise alternatives."
NPT council has become Wales' first local authority to take action against fireworks displays, with Rhondda Cynon Taf councillors also voting unanimously later on on Wednesday. NPT council has also resolved to write to the Welsh government and the next UK Government, calling for them to take action in limiting the maximum noise levels for fireworks and restricting their use.